Underground Conference 5 - uc5.25"
stronger than yesterday. ooh hey, yeah.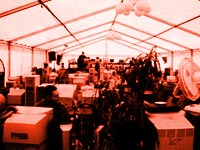 Hush, just stop
There's nothing you can do or say, baby
I've had enough
I'm not your property as from today, baby
You might think that I won't make it on my own
But now I'm...
FREAKIN DEAD
...yeah. you wanna know what being stronger really means? Eat this. This years underground conference is coming straight at you, hüpfbär. Again ~70 hours of non-stop open-air scene action with visitors from all across europe.
You don't have a clue what I'm talking about? You need more information. Sure. Please click here for a detailed explanation about what attending an underground conference means.
Anyway. You may have noticed that a lot of once good scene parties meanwhile disapperead or turned to evil. Probably everyone misses evoke, some will miss takeover ... and then there are shitheads like the ambience organizers that went the the-party-way of total sellout to the lan-gamers.
Suck my pokemon.
Even the power of the commercial media behind the lan/cyberspace/gamer-hype can't kill the scene. There still are enough people left that use their own brain to create digital art, instead of just following the hype.
I hope you got the point: uc5.25" will be - just like the previous uc's - a funny gathering of demo-, tracking-, gfx- and cracking-sceners. It's not a LAN-party, and no "kids in cyberspace festival". To keep this party 100% lamer-free, we again follow an old tradition. uc5.25" is invitation-only. If you aren't on the list of invited groups - well, bad luck. Get creative, do something for the scene, maybe one day you will be allowed to attend an underground conference.
If you attended uc4gw, you'll probably love the fact that we decided to stick to last years location, as it just rocked. Again everything a scener could need will be there - enough power for all your equipment, whatever it may be. The best food-support (aka futzeport) known to any demoparty. A nice huge partytent to possibly survive storms and stuff. Lot's of crazy competitions. A perfectly stable network, w/ internet access. And all this deep down in the forest, where no civilization exists that could disturb us.
We know that after last year's uc the word about our event got spread quite far, this might lead to a higher amount of registrations for this years party. Please keep in mind: These days most organizers of demoscene partys go the "bigger is better"-way. We don't believe in it. It always leads to less freedom, tons of rules to control the masses, and commercial organizing.
That's why we won't allow the uc to grow to more than it's current size. We want it to stay a friendly meeting of skilled people who enjoy having a few days out in the wildness with their friends from the scene. We don't want no rules, we don't need security guards and all that crap. A lot of stuff around our scene changed a lot during the last few years. Be asured that underground conference won't change. We'll stay progressive, yes, but we won't sell out.
The absolute limit of visitors is set to 150. We'd have space for 500 more, but in our opinion there just don't exist that high number of sceners being worth to be invited to our event. Don't think we are arrogant. We aren't. It's just like that your dumbness damages our brains, so we have to protect us from you ;)
Let's celebrate that we are part of one of the greatest movements of all time. Let's celebrate the scene.
Welcome to Underground Conference 5
signed,
scamp/vacuum [uc5.25" mainorganizer]
- for the uc5.25" organizing team -