Underground Conference 5 - uc5.25"
check if your life is worth being continued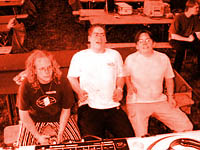 Yes, uc5.25" will be for invited sceners only. Just like all other Underground Conferences before. The reason is simple: We don't want any boring lamers, quakers, warez-traders, leechers or "party animals" at the party. We want crazy funny creative nerds. That's why we have this list.

The list of invited people below is from back UC95 and was last updated a bit for uc3d and uc4gw. Yes, there are important groups missing. That's why the rule goes like this:
- If you are an active scener with releases during the last 3 years, you may apply for registration. Or to put it another way: If you think you are worth being allowed visiting the party, if you plan to release something cool at uc5.25" or if you think that for a real good reason you would be a great addition to this party, please apply for registration.
and/or
- If you are member of one of the groups listed below, you may apply for registration and be quite sure that you'll be granted access.
Important: In any case, you have to apply for registration to come to Underground Conference. After your applied you will receive a confirmation that tells you if you are allowed to come. There is NO exception to this rule - if you are not registered with us, we won't let you in at the partyplace!
Ok, so here's the oldschool list:


Invited Groups:

Xography
Dust
Keen Like Frogz
Vacuum
MAD Syndicate
The Coexistence
Radical Rhythms
Resistance against Radical Rhythms
Munich Scene Posse
N-Factor
SZENE.GER posse
Public.NMI
Taurus
K.G.B.
Legend Design
Blank
FBK
WtB
Pulse
Paranoia
Escape
FBK
digial excess
Reflex
Retire
Pain
(L)amable
X-Treme dreams
Pop2Pop
D-Lusion
pain
LEGO
Fact
FCO
Delta Pi
accept party posse
destiny
Poison
Remedy
Union
Moz(IC)art
GreSoWo
nme
tbl
blizzard
Phrozen Crew
Action Force
Farbrausch
smash designs
digital excess
censor
willow
tempest
occult
fridge
Teklords
size
Elitegroup
Official Elitegroup-Fanclub
Digital Vortex
Cubic Team
orange
Black Maiden
uCF
Sanity
MAZ
Abyss
Haujobb
deep
unik
copro
hitmen
Kolor
core
Matrix
Razor1911
tdr
fridge
X-Force
all SCALA members
TUM
Loonies
witchcraft
headcrash
digital overflow
Cocoon
Science
move
salva mea
pap
mindforce
hybris/nemesis
plush
scene.org-crew
ojuice-crew
scenet-crew
Secretly!
aardbei
threestate
mekka&symposium orga-team
evoke orga-team
ambience orga-team .. *NOT* ;)
icebird
die wissenden
freestyle
Chemical-Reaction (CRO)